An Opportunity Knocks - Promotional Products

Welcome!

Thank you for visiting our website. An Opportunity Knocks is widely recognized as a leader in the art and science of creating brand awareness through incentive marketing and promotional products. Our job is to make you, your boss, and your organization look great! Our primary goal is your success. As you can see from the number of category icons above, your choice of promotional products is virtually unlimited. We have the expertise to help you narrow that choice. Here's an important tip to consider:

Usefulness and attractiveness are two key features to consider when searching for the perfect promotional product. The reason that this is such a great combination is that together they add up to a high perceived value. You want a promotional item that is going to be appreciated and that will give your brand lasting visibility at the same time. Depending on your brand, that item may be something you drink out of, something you write with, something you wear, or possibly something you're proud to show off.

So part of your determination in its perceived value is how much the recipient's appreciation for it will depend on its usefulness, its attractiveness, or its inherent value. Something simple, like a ceramic mug or a well-designed rollerball pen, that the recipient will use for months, or even years, has the capacity to maintain your brand's visibility indefinitely. Something like a well-made golf shirt will demonstrate the recipient's pride in attending a fundraising event or in being a member of your team.

Whatever your intended use, the promotional product must satisfy these basic principles of marketing, while at the same time they guarantee you a satisfactory return on your investment. And studies show that whether you are passing out products by the dozen or presenting expensive custom-made promotional gifts as sales incentive rewards, recognition awards, or as tokens of appreciation to a member of your management team, a highly regarded employee, or one of your donors, nothing works better than the right promotional product, at the right time, for the right reason.

We recognize that the incentive market is a $50 billion market across North America. That's fantastic. There are over 750,000 products to choose from. So we are excited that you are visiting our website to resource just the right product for your brand. At An Opportunity Knocks, your inquiries will be handled by promotional experts who are dedicated to providing the right product, at the right price, for the right application for your brand. If you would find it easier to pick up the phone, please give us a toll-free call at 1-888-566-2577, and press 1 for sales and customer service. We will be happy to talk you through the best options. (Or you can contact as at the email below.)

Established in 1999, An Opportunity Knocks has a staff that's been around for over a decade and is constantly scouring the planet in search of great solutions for our clients. Looking for the hottest trends? The best sales and closeouts? The newest items? We've got them! And we can help you achieve amazing results by sourcing products for you.

So what questions do you have?


Are you unsure whether to advertise or use promotional products?
Are you overwhelmed by the enormity of promotional products available?
Are you worried about your return on investment for promotional items?
Are you spending too much time looking for "stuff"?
Do you already have a quote you're not quite happy with?
Do you need something in a hurry?
Are you having trouble finding just the right incentive?
Are you worried about delivery time, accuracy, or cost?



We deal with these questions on a daily basis, so we hope you'll give us the opportunity to provide you with a quote and satisfy all your inquiries. I thank you for your time. We look forward to working with you! Promotional Products—It's what we do!


USA - 350 5th Ave, Suite 7412 | New York, NY USA 10118-7412
CANADA - Richview Square | 250 Wincott Drive, P.O. Box 18535 | Toronto, Ontario, Canada M9R 4C8
TOLL FREE 1.888.566.2577 | LOCAL 416.815.8000
INTERNATIONAL 001 416 815 8000
quotes@anopportunityknocks.com
Featured Item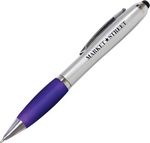 Sudbury Plastic Twist Action Ballpoint w...
Sudbury plastic twist action ballpoint pen features a silver plastic contoured barrel, silver chrome look wide tapered top accent band below soft black rubber round PDA stylus end tip, silver chrome l...